Here is Monolith, a titan conical strictly single dosing espresso grinder, designed and built in Seattle, USA. Monolith Conical (MC5) is completely original design, first dual-conical burr espresso grinder in the world and first with both burrs made and designed in house. This is an espresso grinder boiled down to the essence. The end-game grinder. Built to last.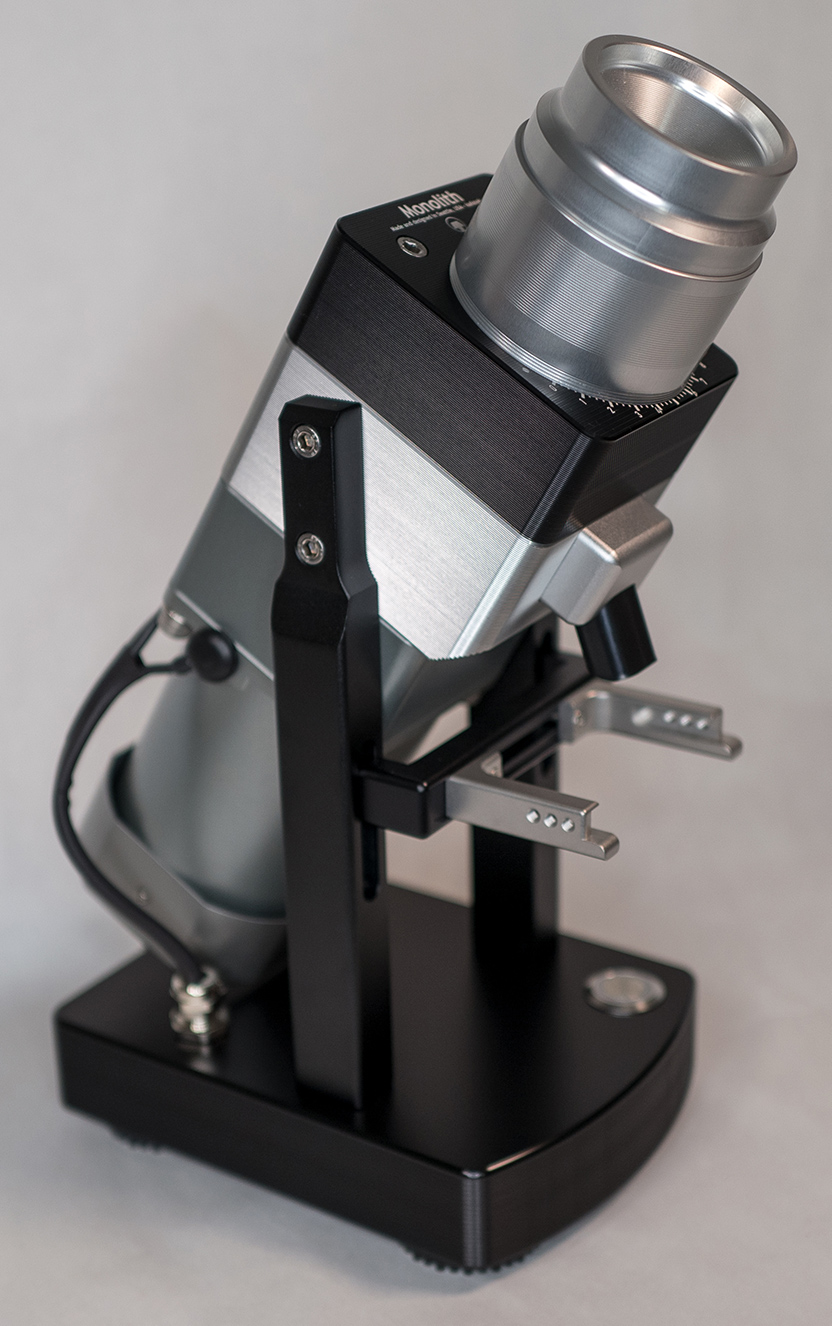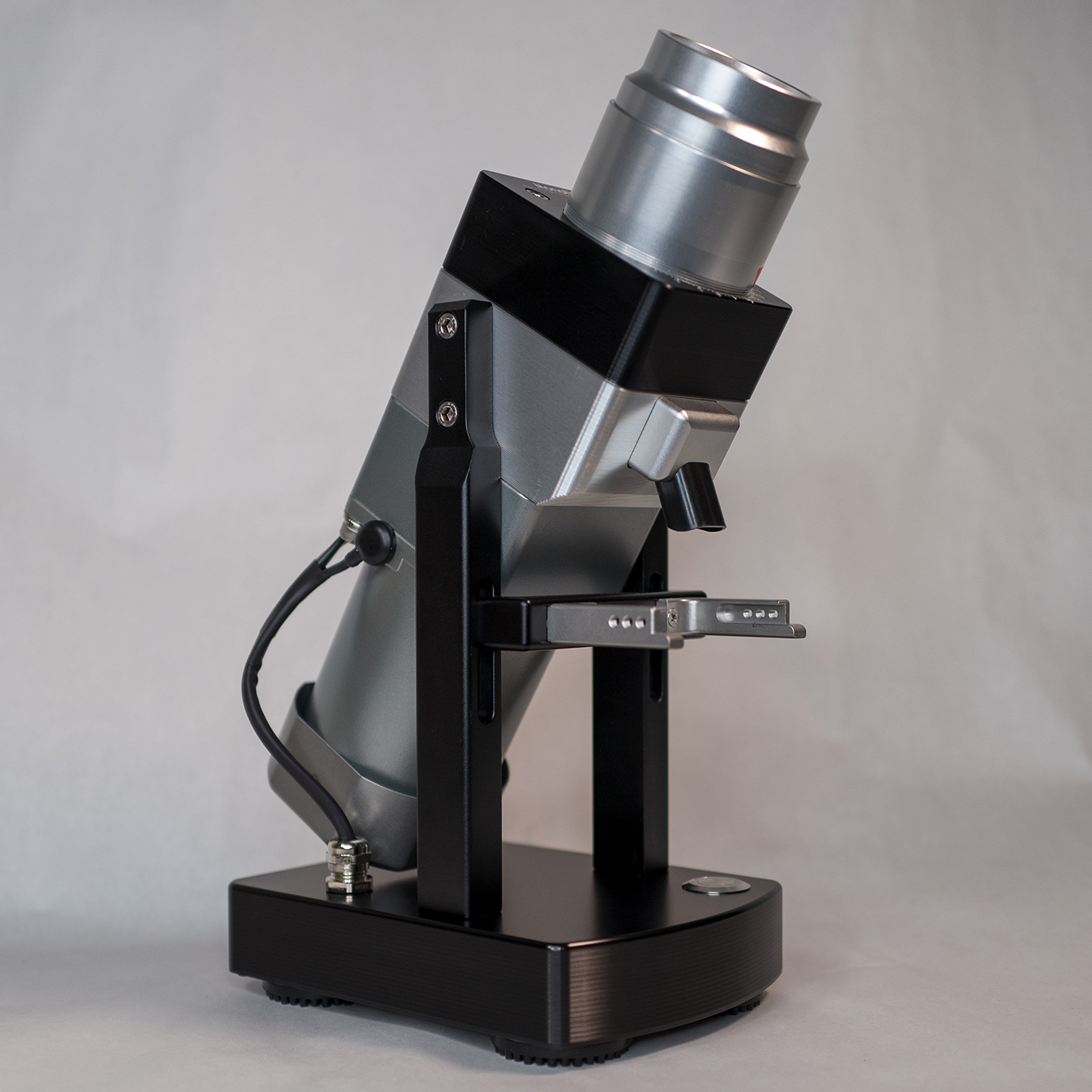 Dual-conical burrs, first in the world. 71mm "pancake" burrs for coarse pre-grind stage and 71mm Shurikone™ patent-pending Conical Burrs for fine second grinding stage (both designed and made in house) rated conservatively for ~1700lbs (771kg)  of coffee run through. Available only on Monolith Conical grinder.
Minimal retention inside of grinder
Precise, step-less grind fineness adjustment, grind as coarse or as fine as you need and return precisely to previous grind setting. Our customers report great results with pour-over use as well.
Magnetically attached extremely short exit chute
Low running speed at 120 RPM's. Grinds coffee evenly with minimum heating, motor rated for 10,000 hours
Precisely aligned with premium Made in USA SKF over-spec bearings
Simple design for long term durability
Easy to clean inside of grinder without losing your grind setting
No complex electronics components to fail, there is capacitor and wiring and that's it!
Only made in small batches with each grinder individually taste tested then measured with refractometer so it never ships to you unless it can extract espresso well. Extraction report is made and provided with each grinder. This is not nor it will ever be mass produced item.
Made in USA, all grinder parts are designed, made and finished in USA.
Monolith base is 8×6″ (204x153mm) and ~14.5″ (~370mm) tall. Weight ~28lbs
Funnel holds about 40g of medium roasted beans.
Available in 110-127V 50/60Hz and 220-240v 50/60hz versions.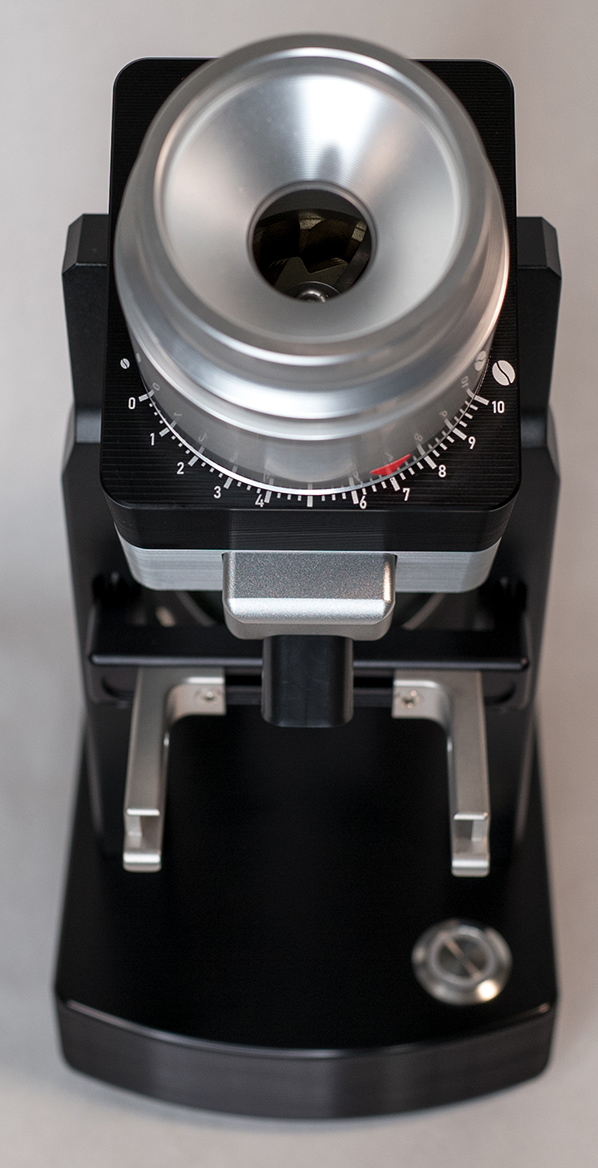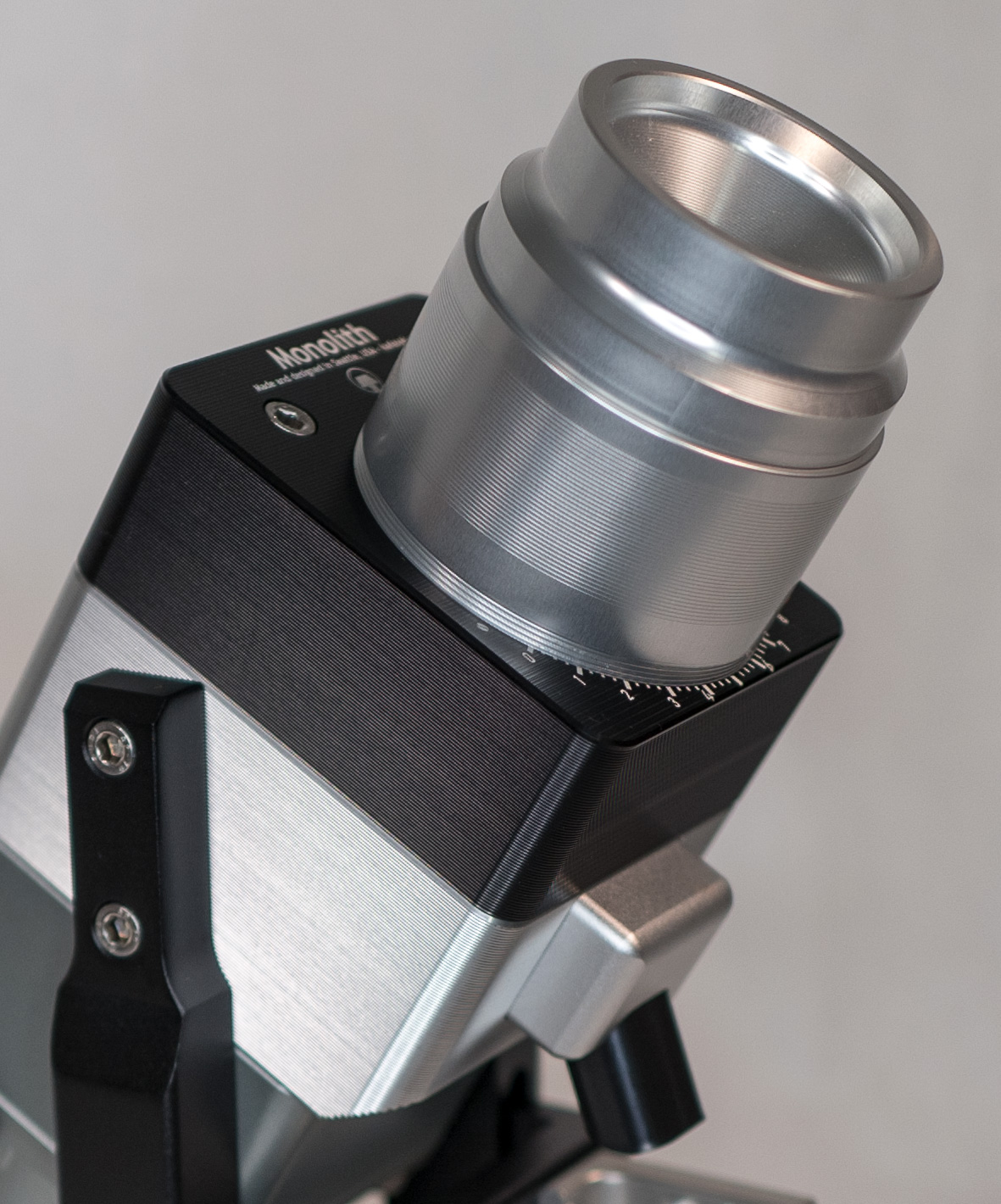 Contact us if you have any questions about Monolith. If you would like to be notified on Monolith production updates, pre-orders starting and our new products use form below to subscribe to email notifications:
What is included with Each grinder?
Monolith 71mm Titan Conical Grinder with Shurikone™ patent-pending burrs
110V power cable. We use standard PC power outlet (IEC320C13) so if you are ordering Monolith in configuration other than 110V you will have to source the cable locally.
WDT tool to aid distribution of coffee in basket
RDT spray bottle, in case you want to neutralize static by spraying beans with water mist
Tall wide mouth dosing funnel for 58mm baskets.
Mr Puff
12 months non-commercial use warranty
Monolith Conical is $2450 + actual shipping cost. For photos of optional wood top caps see here. You can pre-order your Monolith Conical here.
How is Monolith built and tested?
Each Monolith grinder is precision CNC machined in Seattle, USA to tolerances of 10 microns or less. Great burr alignment is critical to great espresso extractions so we use tight tolerances on critical parts. Each grinder is then hand built and most importantly hand tested. If there are any problems with parts during assembly they are rejected. Then each Monolith is not only tested that it runs and can grind coffee, but we make espresso by dialing in, by taste, our benchmark coffee (Vivace Dolce) that we are super familiar with on Synesso Hydra, Slayer or Londinium 1, then we compare those espresso shots to the shots made with our reference Monolith. If we are happy with how espresso tastes, we measure the extraction yields using refractometer and compare those also to our reference Monolith. If either one of these things fail or we are not happy with it, the grinder will not ship to you. Any more questions, please contact us.
How is grind fineness adjusted?
Turning the funnel is all its needed to adjust fineness. No locking required. Adjustment is completely step-less.
---
Please also note that all grinder parts and surfaces not visible during regular day to day use to make espresso are considered non-cosmetic, therefore we cannot guarantee the cosmetic surface finish on them. Additionally while we do our best to ensure the high cosmetic appearance of each Monolith, occasional micro-scratches or perceived cosmetic flaws may be inevitably due to nature of anodizing of aluminum and final QC check and handling.