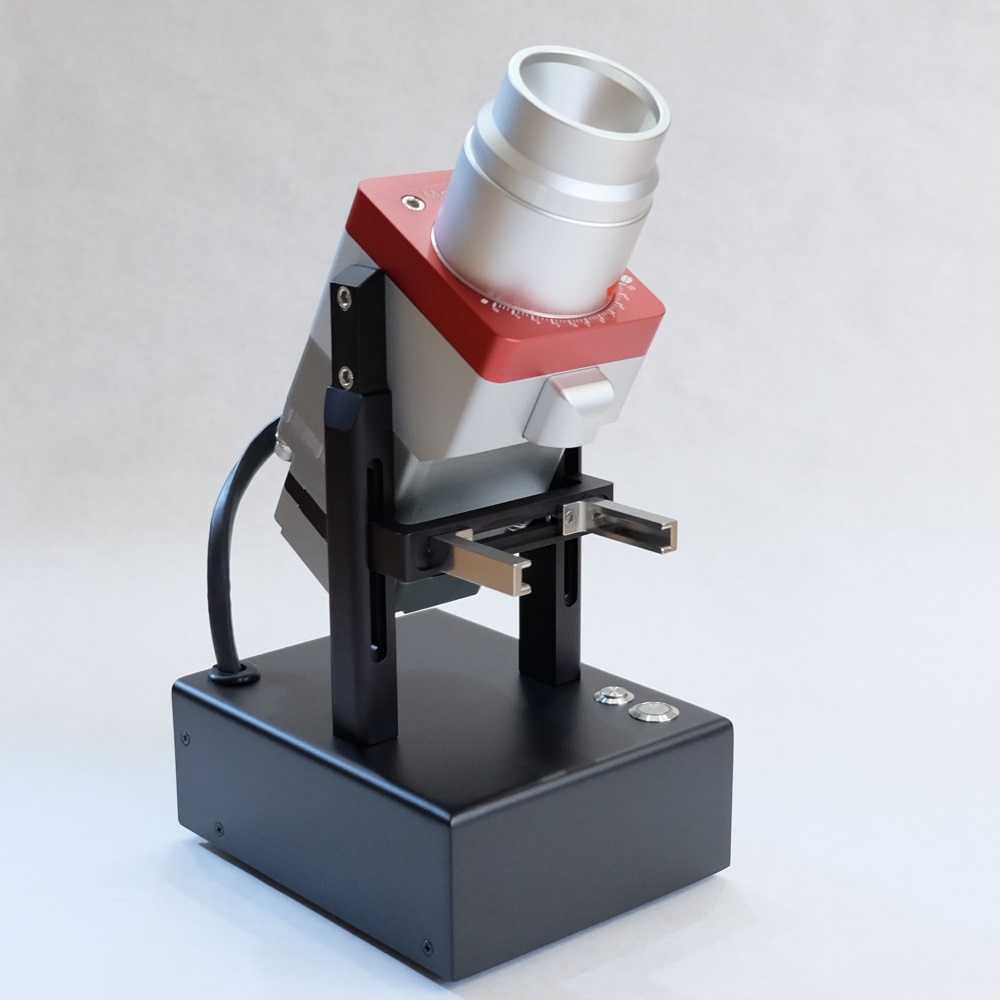 Introducing our Monolith Titan Flat burr single dosing espresso grinder with 75mm Titanium Nitride coated Shuriken-LM burrs and variable speed brush-less DC motor. The end-game grinder. Built to last. It's the simplest designed grinder in the world designed and built in Seattle, USA.
The Monolith Flat burr grinder is designed around 75mm Titanium Nitride coated Shuriken-LM flat burrs. Burrs we use have very small inner diameter so effective cutting surface length is close to the cutting surface of 80mm and 83mm diameter burrs. Big burrs in smaller package. Since flat burrs expel ground coffee on the sides, we angled the grinder to allow straight down exit of ground coffee into the basket. As it is tradition with Monolith grinders, we used super short magnetically attached exit chute that can be easily tapped out and cleared of any remaining coffee.
The Monolith Titan Flat uses a brush-less DC motor rated for 40,000 hours life. RPM (rotations per minute) can be adjusted using dial on the side of the grinder from 22-800 RPM with a recommended top speed for light roasted, hard beans at around 600 RPM's.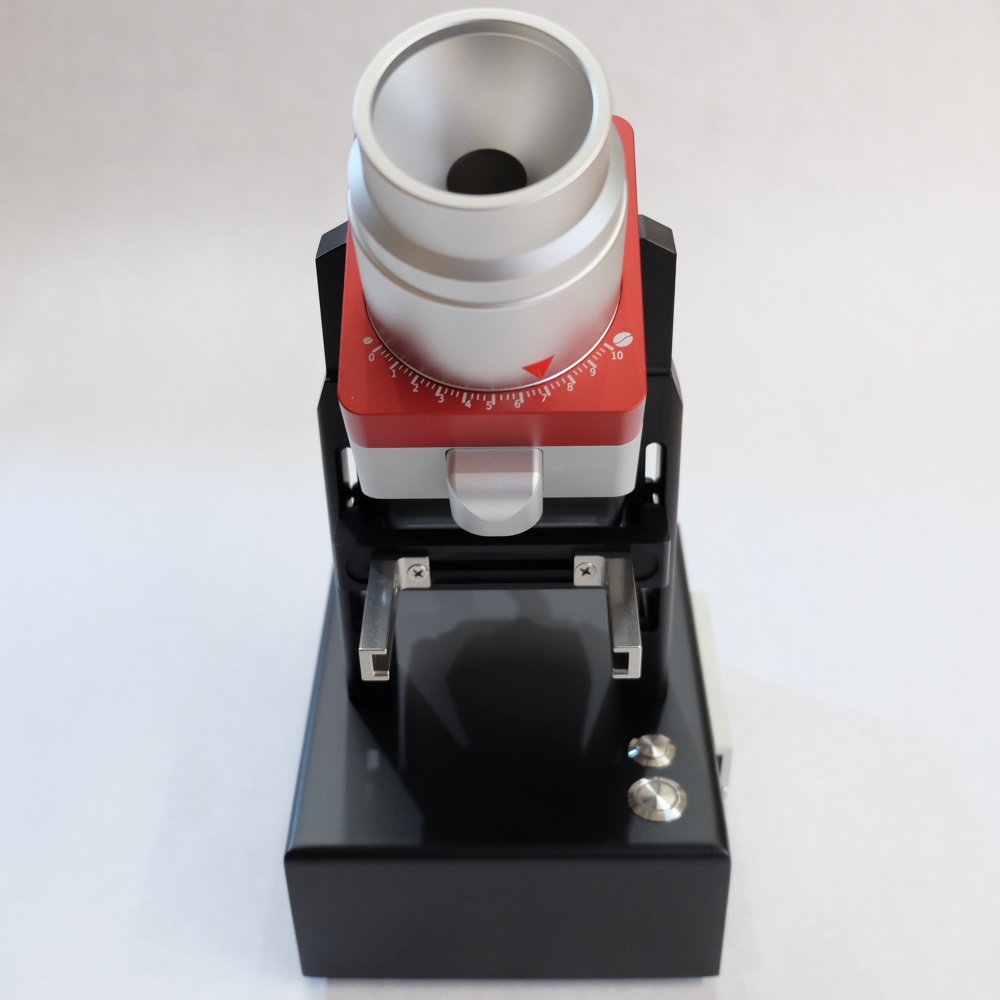 Everything is integrated into the grinder base and all you need to do is plug the power cable. Monolith Flat, just like Conical version is available in both 110v and 220v options.
Grinder is very compact at 6.5″/16.5cm wide, 8″/20.6cm deep and only 14″/35.5cm tall so it will fit under any kitchen counter.
Grinder is precisely aligned with super short shaft and bottom burr holder machined from single piece of stainless steel precision fitted onto the premium Made in USA SKF bearings rated for 4200 lbs loads.
75mm ALPHA coated Shuriken-LM burrs 100% made and designed by us in our workshop in Seattle. Unique grinding geometry that hasn't been used before.
Minimal retention inside of grinder, less than 0.5 grams without RDT and about 0g with RDT, all of course depending on moisture left in roasted bean and environmental conditions
Grind from the finest Turkish coffee to French Press, Espresso, Mocha, and Filter coffee.
Precise, step-less grind fineness adjustment
New locking system that evenly grips the adjustment funnel so there is no movement when locked
Magnetically attached super short exit chute, simply detach it and tap it out to release any coffee left
Brush-less DC motor made in Japan with 40,000 hours rated run-time and 22-800 RPM speed control and real-time grind speed display
Precisely aligned with premium over-spec SKF Made in USA bearings
Precision machined parts with super short shaft/burr carrier machined from single piece of stainless steel for ultimate precision
Simple design for long term durability
Easy to clean inside of grinder without losing your grind setting
Only made in small batches with each grinder individually taste tested then measured with refractometer so it never ships to you unless it can extract espresso well. Extraction report is made and provided with each grinder. This is not nor it will ever be mass produced item.
Made in USA, designed, made and finished in USA.
6.5″/16.5cm wide, 8″/20.6cm deep and only 14″/35.5cm tall.
Funnel holds about 40g of medium roasted beans.
Available in 110-127V 50/60Hz and 220-240v 50/60hz versions.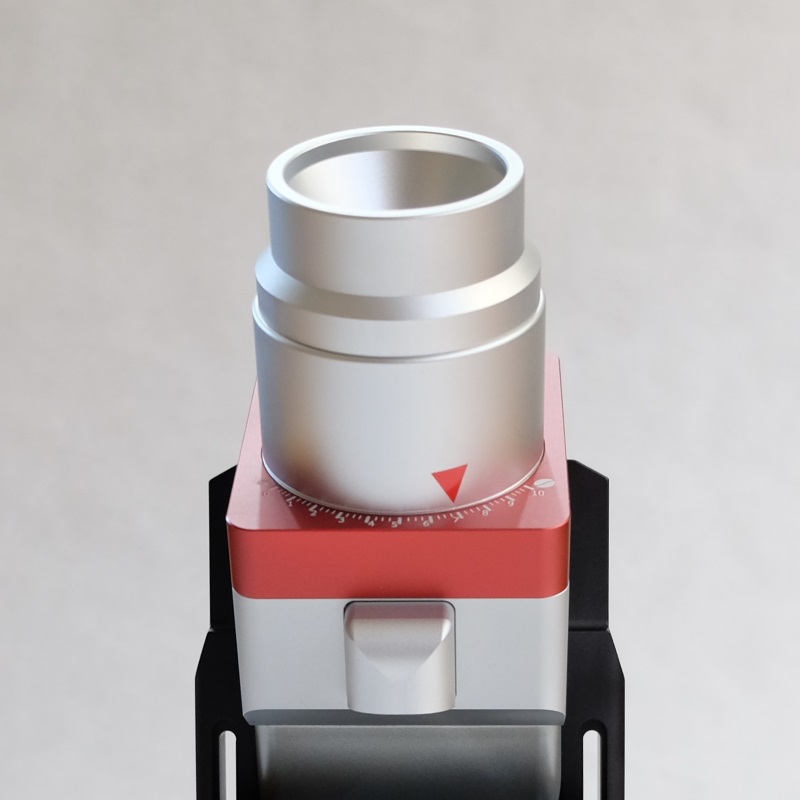 What is included with Each grinder?
Monolith Titan Flat Burr Grinder.
110V power cable. We use standard PC power outlet (IEC320C13) so if you are ordering Monolith in configuration other than 110V you will have to source the cable locally.
WDT tool to aid distribution of coffee in basket.
RDT spray bottle, in case you want to neutralize static by spraying beans with water mist.
Tall 58mm dosing funnel.
Mr Puff
12 months non-commercial use warranty.
How is Monolith built and tested?
Each Monolith grinder is precision CNC machined in Seattle, USA to tolerances of 10 microns or less. Exceptional espresso requires exceptionally accurate burr alignment so we specify tight tolerances on all critical parts.
Each grinder is then hand built and most importantly hand tested. If there are any problems with parts during assembly they are rejected. Then each Monolith is not only tested that it runs and can grind coffee, but we use your grinder to make espresso using our benchmark coffee on one of our machines; Synesso Hydra, Slayer or Londinium 1. Then we compare those espresso shots to the shots made with our reference Monolith. If we are happy with how the espresso tastes, we measure the extraction yields using refractometer and compare those to shots made using our reference Monolith. If either the taste is not to our standards or the extraction yield does not measure up, the grinder will not ship to you. This ensures that your grinder works as well as ours does.
Any more questions, please contact us.
Monolith Flat is priced at $2650 US dollars + actual shipping. For photos of optional wood top caps see here.
If you would like to be notified on Monolith production updates, pre-orders starting and our new products use form below to subscribe to email notifications:
What using Monolith Flat looks like?
Here is video of short espresso preparation routine using Monolith Flat. In this video no RDT (misting of beans with water to dissipate static electricity) or WDT (stirring ground coffee to improve distribution) was used. This is just an example of what is possible and shot made tasted great. We still recommend using at least WDT to aid in consistency and ensure that most shots you make will have good distribution and flow.