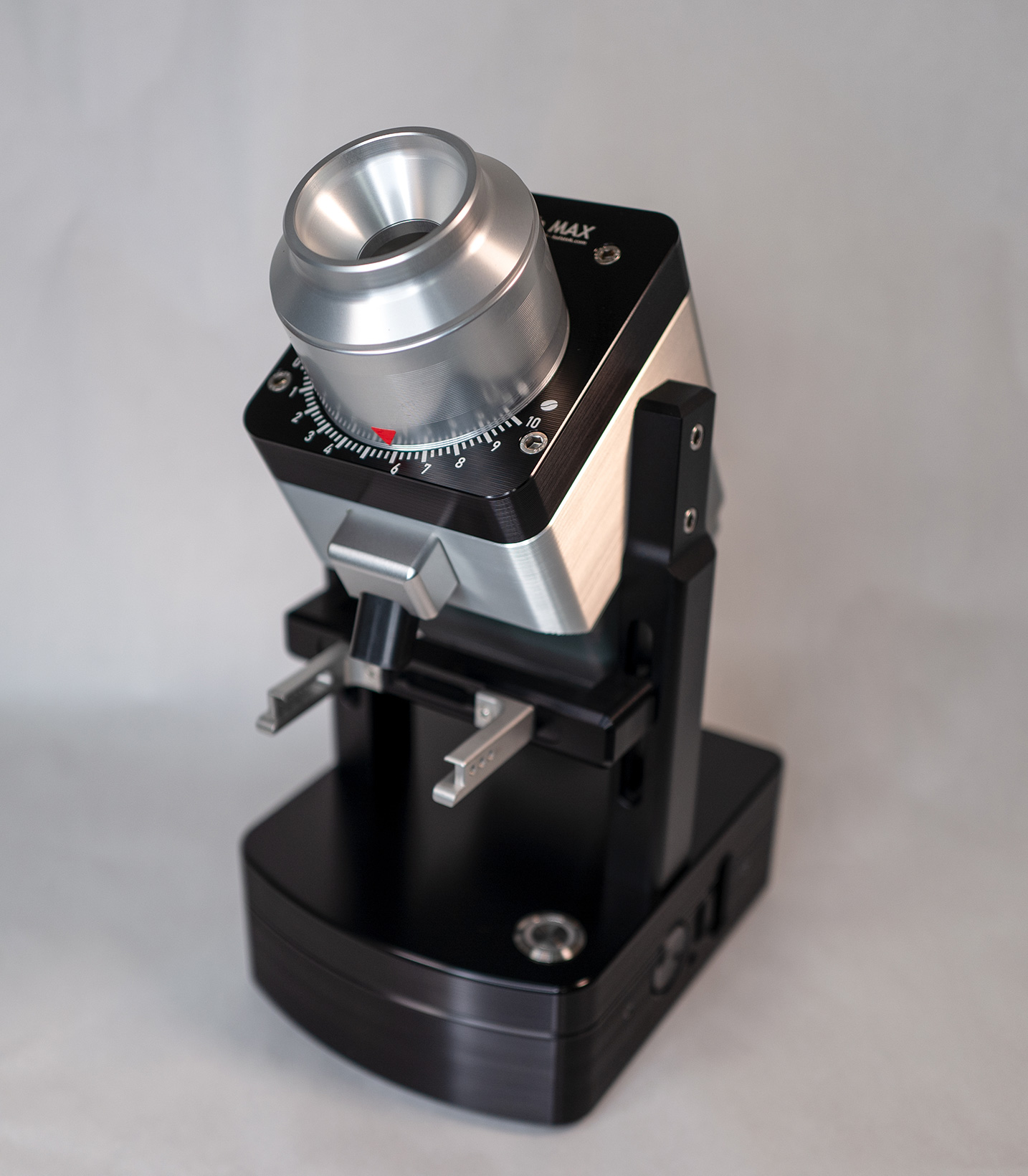 Introducing the MAX, end-game, single dosing, patented dual burr grinder with 98mm Alpha coated Shuriken burrs, conical pancake crusher burrs and huge variable speed brush-less DC motor.  Built to last. Designed and made in Seattle, USA including the burrs. Monolith Flat MAX is result of espresso obsession taken to its limit. Click-here to order.
The biggest burrs, biggest motor, tightest of tolerances on proven platform. If you are looking for grinder that will take your light roasted beans to next level this is it. We recommend Monolith Flat MAX to anyone that enjoys light roasted espresso and need the absolute best. If you drink medium/dark roasted espresso we do not think that MAX provides meaningful advantage over our Monolith Flat. As it is tradition with Monolith grinders, we used super short magnetically attached exit chute that can be easily tapped out and cleared of any remaining coffee.
The Monolith Flat MAX uses a brush-less DC motor rated for 40,000 hours life. RPM (rotations per minute) can be adjusted using dial on the side of the grinder from 22-400 RPM. All critical components for Monolith Flat MAX are built in house. We invested in modern CNC equipment so we can build the best. We demand perfection and nobody cares more about our product than we do. So we build it. If its a critical part we make it from solid block of metal to finished part.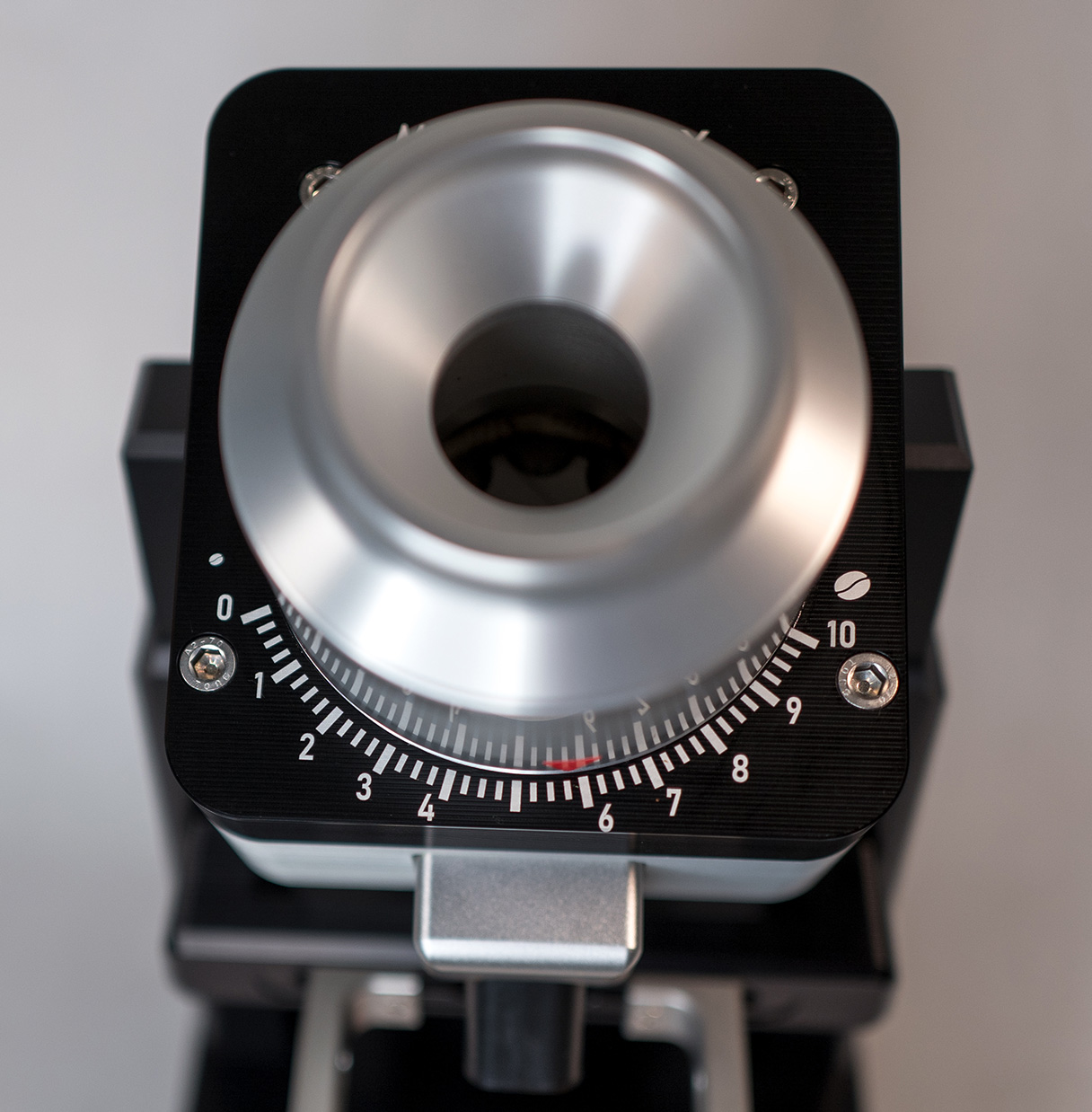 Everything is integrated into the grinder base so there are no boxes sitting on the side and all you need to do is plug the power cable. Monolith Flat MAX is available in both 110v and 220v options. Grinder is very compact for big burr grinder at 7.5″/19cm wide, 8.7″/22cm deep and only 16″/40.6cm tall so it will fit under almost any kitchen counter. Light it is not, though weighing at 32lbs/14.52kg Grinder is precisely aligned with super short shaft and bottom burr holder machined from single piece of aluminum precision fitted onto the premium Made in USA SKF bearings rated for 4200 lbs loads.
Patent pending dual burr design
Burr carriers machined in-house to 10 microns or less flatness and every single one inspected. You are not going to shim our grinders because they are made right and with the best precision we can possibly make them.
98mm ALPHA coated patent pending Shuriken burrs. 100% made and designed by us in our workshop in Seattle. Unique grinding geometry that hasn't been used before.
Conical pancake pre-crusher burrs designed in house.
Minimal retention inside of grinder, less than 0.5 grams without RDT and about 0g with RDT, all of course depending on moisture left in roasted bean
Grind from the finest Turkish coffee to French Press, Espresso, Mocha, and Filter coffee. For optimal performance, choose burrs based on your primary usage.
Precise, step-less and lock-less grind fineness adjustment
New grind adjustment system without need to lock adjustment while performing superior burr alignment by triangulating burr position
Magnetically attached super short exit chute, simply detach it and tap it out to release any coffee left
Brush-less DC motor made in Japan with 40,000 hours rated run-time and 22-400 RPM speed control and real-time grind speed display geared to deliver 2000W of power.
For durability we have sized our motor so its utilized at 50%-70% of its available torque with 50% utilization most of the time. Components that are not working at their limits last longer.
Stock DC motor and DC driver in standard industry size from large manufacturer with world-wide presence to future proof grinder. We did not use custom components for these parts since design goal is that grinder will work for more than 50 years from now and electric parts that can fail must be standard and available world-wide.
Precisely aligned with premium over-spec SKF Made in USA bearings
Precision machined parts with super short shaft/burr carrier machined from single piece of aluminum for ultimate precision
Simple design for long term durability
Easy to clean inside of grinder without losing your grind setting
Only made in small batches with each grinder individually taste tested then measured with refractometer so it never ships to you unless it can extract espresso well. Extraction report is made and provided with each grinder. This is not nor it will ever be mass produced item.
All critical components are precision CNC machined by us.
Made in USA, designed, made and finished in USA.
7.5″/19cm wide, 8.7″/22cm deep and only 16″/40.6cm tall. Weight: 32lbs/14.52kg.
Available in 110-127V 50/60Hz and 220-240v 50/60hz versions.
Shuriken™ Burrs
If you are truly serious about espresso grinders, then you must make your own burrs. Burrs are the most important part of the grinder. They are what transforms coffee beans into the granules and they directly impact and determine the taste of the coffee and what you can extract out of the bean. In short, they are essential.
Therefore, we make our own burrs. From design to finished product its all made in our shop in Seattle USA. We developed burrs with unique geometry, patent pending, that was not seen before we introduced it. They grind coffee differently which is evident in increased aroma from ground coffee to the taste in the cup. They are made better and more precise, they extract more consistently, they taste different. We designed and tasted hundreds of different geometries to carefully curate the best we can make and provide different burr designs to target different aspects of espresso taste.
What is included with Each grinder?
Monolith Flat MAX Burr Grinder with 98mm LM Shuriken burrs (SW, MD, CR are optional).
110V power cable. We use standard PC power outlet (IEC320C13) so if you are ordering Monolith in configuration other than 110V you will have to source the cable locally.
WDT tool to aid distribution of coffee in basket.
RDT spray bottle, in case you want to neutralize static by spraying beans with water mist.
Tall 58mm dosing funnel.
Mr Puff
12 months non-commercial use warranty.
How is Monolith built and tested?
Each Monolith grinder is precision CNC machined by us in Seattle, USA. Exceptional espresso requires exceptionally accurate burr alignment so we chase tight tolerances on all critical parts and all critical parts are CNC machined in house. Burr carriers are machined to less than 10 microns flatness. Each grinder is then hand built and most importantly hand tested. If there are any problems with parts during assembly they are rejected.
Each grinder is hand built and most importantly hand tested. If there are any problems with parts during assembly they are rejected. Then each Monolith is not only tested that it runs and can grind coffee, but we make espresso by dialing in and measuring extractions to create test report included with each grinder. If either one of these tests fail or we are not happy with it, the grinder will not ship to you. Any more questions, please contact us.
Monolith Flat MAX is priced at $3600 US dollars + actual shipping and can be pre-ordered now. For photos of optional wood top caps see here.
If you would like to be notified on Monolith Flat MAX production updates or pre-orders starting please use form below to subscribe to email notifications:
---
Please also note that all grinder parts and surfaces not visible during regular day to day use to make espresso are considered non-cosmetic, therefore we cannot guarantee the cosmetic surface finish on them. Additionally while we do our best to ensure the high cosmetic appearance of each Monolith, occasional micro-scratches or perceived cosmetic flaws may be inevitably due to nature of anodizing of aluminum and final QC check and handling.